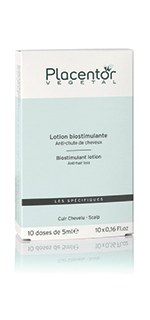 BIOSTIMULANT LOTION ANTI-HAIR LOSS
Hair care and hair loss
All types of hair
Biostimulant Lotion, Anti-Hair Loss is a real concentrate of active ingredients which prevents and reduces hair loss and regenerates the scalp. Suitable for men and women suffering from a lack of hair density. No need to rinse.
Capacity : 5ml
Biostimulant Lotion strengthens and tones the hair.
The scalp is revitalised and stimulated.
Aqua (Water), Hydrolyzed soy protein**, Phenoxyethanol, Fagus sylvatica bud extract**, Chrysanthellum indicum extract**, Butylene glycol, Sodium benzoate, Benzyl alcohol, Sorbic acid, Benzoic acid, Sodium hydroxide.
** Origine végétale
Plant placenta: prevents and reduces hair loss by stimulating the hair follicle. Improves the general condition f the hair, restores vitality, shine and suppleness
Golden camomile: protects and repairs the keratin/restarts hair growth by reinforcing the micro-circulation in the scalp
Maintenance treatment: Twice a year. Apply one dose per day of Biostimulant Lotion, Anti-Hair Loss for five days, massaging the scalp. Repeat two weeks later
Initial intensive anti-loss treatment: apply one dose per day for one month. Repeat the treatment if necessary.
The pharmacist's recommendations
The dermatologist's word
Massaging the scalp before applying shampoo activates the blood circulation. Circular movements from the nape of the neck to the top of the head boosts hair growth.
If hair loss is significant and prolonged, an appointment should be made without delay with a dermatologist who will diagnose the pathology.