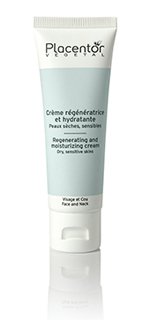 REGENERATING AND MOISTURISING CREAM
Moisturising/nourishing skin care
Dry skin
Regenerating and Moisturising Cream is a day/night cream which intensively moisturises and nourishes dry skin. It soothes and softens sensitive skin. It is also recommended for skin exposed to the weather (cold, sun, wind, UV, etc.) which it regenerates and protects.
LONG-LASTING 8-HOUR MOISTURISATION PROVEN.
TESTED UNDER DERMATOLOGICAL CONTROL.
Capacity : 40ml
Regenerating and Moisturising Cream nourishes, protects and moisturises the skin deep down.
The skin is left soft and supple. After 2 days, the skin is repaired.*
*DERMSCAN clinical study – June 2012-Study performed versus Placebo on 18 volunteers for 11 days-Application twice-daily.
Aqua, Glycerin**, PEG-6 stearate, Caprylic/capric triglyceride**, PEG-32 stearate, Hydrogenated palm/palm kernel oil PEG-6 esters, Hydrolyzed soy protein, Prunus armeniaca kernel oil**, Stearic acid, Phenoxyethanol, Calendula officinalis flower extract**, Fagus sylvatica bud extract**, Carbomer, Ethylhexylglycerin, Parfum, Sodium hydroxide , Benzyl alcohol, Phytic acid, Benzyl salicylate, Linalool , Hexyl cinnamal, Alpha-isomethyl ionone, Benzoic acid, Hydroxycitronellal, Eugenol, Sorbic acid, Geraniol
** Origine végétale
Plant placenta: reduces transepidermal water loss and moisturises the skin lastingly. After two days, the skin's barrier function is restored.
Plant glycerine: moisturises, nourishes and softens the skin
Calendula:  antiseptic, softening and healing properties
Apply Regenerating and Moisturising Cream morning and/or night to the cleansed face and neck.
The pharmacist's recommendations
The dermatologist's word
If the skin suffers from dryness, this means it has lost its ability to retain water, which evaporates. The lipids at the surface of the skin no longer constitute an effective protective barrier against external aggression. Result: it feels rough and tight and can become very uncomfortable. Dry skin needs a moisturising cream which restores the skin's protective barrier and soothes feelings of discomfort. Dry skin is skin which becomes sensitive and delicate. Skin care suitable for sensitive skin is therefore recommended.