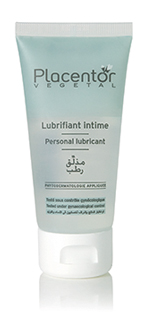 PERSONAL LUBRICANT
Personal lubricant
Vaginal dryness
Vaginal dryness can affect all women at different stages in their life. Personal Lubricant has been specially formulated to facilitate the lubrication of the external genital area and reduce vaginal dryness. Suitable for all ages.
TESTED UNDER GYNAECOLOGICAL CONTROL.
Compatible with the use of condoms. Standard NF S97/034. The lubricant is not a cosmetic product.
Capacity : 50ml
Personal Lubricant:
improves lubrication: 95%*

improves comfort during intercourse: 81%*
*Assessment of gynaecological tolerance and the cosmetic qualities of a cosmetic product after 21 days of application on 22 women, 11 of which were post-menopausal
Aqua, Glycerin**, Sorbitol**, Propylene glycol, Hydroxyethylcellulose**, Sodium benzoate, Methyl-paraben, Lactic acid, Sodium nitrate.
** Origine végétale.
Sorbitol and plant glycerine: limit dehydration
Propylene glycol: facilitates lubrication
Cellulose: gives the gel a light, aqueous, non-oily texture
Apply the desired amount of Personal Lubricant to the external genital area.
This product is not a contraceptive. In complement, use Placentime, a foaming gel for intimate washing with a physiological pH.
The pharmacist's recommendations
The dermatologist's word
For several reasons, your body may be unable to produce sufficient natural lubricant: hormonal changes (menopause, etc.), childbirth, breast feeding, intimate hygiene, certain medication, psychological state, etc. Personal Lubricant replaces the natural lubrication mechanism, thus making intercourse more pleasurable.