PROTECTION, DETOXIFICATION, HYDRATION, SMOOTHING EFFECT, ANTI-OXIDANT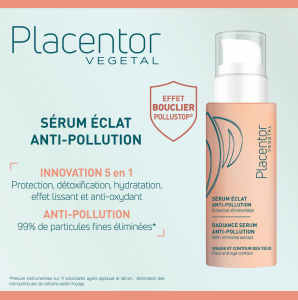 This day/night serum protects and repairs the main damage caused by urban and domestic pollution: lack of radiance, signs of fatigue, dehydration, premature ageing.
1/PROTECTION: during the day, Pollustop® increases the skin's protective abilities by providing an invisible "breathing" shield, a genuine screen that prevents pollutants from being absorbed by the skin. At night, it promotes skin regeneration and restructures the natural skin barrier.
2/ DETOXIFICATION: Immortelle flowers stimulate the natural detoxification process and free the skin from pollutants to reveal a visibly brighter, fresher and more even complexion. Fatigue is erased: features are smoothed.
3/ HYDRATION: plant sugars act as water catchers to moisturise the skin throughout the day.
4/SMOOTHING EFFECT: Sorghum juice instantly reduces wrinkles and fine lines for smoother, softer and more velvety skin.
5/ANTI-OXIDANT: highly concentrated in anti-oxidants thanks to high carotene content, Roucou oil dresses the skin in a radiant veil and protects it from ageing.
CLINICALLY PROVEN EFFECTIVENESS
Almost total shielding effect: +96% protection (1)
Anti-pollution : + 99% of fine particles eliminated( 2)
Anti-dehydration : +183% of water sensors in the skin (3)
Smoothing effect after 1 hour: -25.8% of the volume of the main wrinkle (4)
(1) Protective effect measured on 20 volunteers of Pollustop® against heavy metal adhesion versus Placebo (lead)
(2) Instrumental measurement on 11 volunteers who applied the serum: removal of carbon microparticles after rinsing
(3) In vitro test, effect of plant sugars on chondroitin sulphate water-retaining molecules in the dermis
(4) Instrumental measurement on 23 volunteers of the macro-relief of crow's feet 1h after the application of Sorghum juice