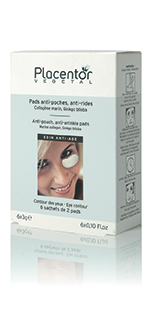 ANTI-POUCH/ANTI-WRINKLE PADS
Anti-age skin care
Eye contour
Anti-pouch/Anti-wrinkle pads are patches of soft fabric soaked in a gel rich in plant-based active ingredients which act on a wide front to reduce pouches and wrinkles around the eyes.
TOLERANCE TESTED BY DERMATOLOGISTS.
Capacity : 3g
Anti-pouch/Anti-wrinkle pads reduce pouches and wrinkles. The eye contour is smoothed and your eyes look fresh and rested.
Aqua, Centaurea cyanus flower water, Glycerin, Hydrolyzed soy protein, Carbomer, Benzyl alcohol , Propylene glycol, Caffeine, Centella asiatica extract, Cucumis sativus fruit extract, Sodium hydroxide , Saccharomyces cerevisiae extract, Chrysanthellum indicum extract, Dehydroacetic acid, Euphrasia, Officinalis leaf extract, Phenoxyethanol, Sodium benzoate, Potassium sorbate, Ethylhexylglycerin, Sorbic acid.
Cornflower floral water: soothes thanks to its anti-inflammatory action
Elderberry: decongests by reducing drainage
Gingko Biloba: actives the micro-circulation of the blood, combats free radicals
Acmella Oleracea extract Dermo-relaxing plant extract of a tropical plant: relaxes the muscles responsible for expression lines. Botox-like action.
Plant placenta: regenerates, instant lasting moisturisation of the skin
Pure marine collagen: prevents and reduces wrinkles and fine lines, redensifying and restructuring the epidermis
Horse chestnut extract: anti-inflammatory and phlebotonic
As part of a programme: one application of Anti-pouch/Anti-wrinkle pads per day for six to twelve days.
On-going treatment: one application per week throughout the year.
For an instant radiance-boosting effect: occasional application to refresh the eyes.
The pharmacist's recommendations
The dermatologist's word
Wrinkles around the eyes and on the eyelids are caused by the permanent contraction of the eye socket muscle. To act on the source of the wrinkles, you are therefore advised to choose skin care containing a dermo-relaxing active ingredient with a botox-like action which will relax the muscles.