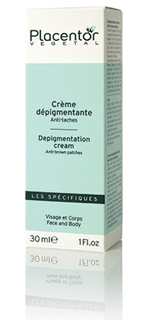 DEPIGMENTATION CREAM
Skin care for brown patches, lightening
Brown marks
Depigmentation Cream, anti-brown patches, prevents and reduces brown patches linked to ageing, excessive exposure to the sun or hormonal changes (pregnancy mask) and lightens the complexion.
TOLERANCE TESTED UNDER DERMATOLOGICAL CONDITIONS.
Capacity : 30ml
Depigmentation Cream evens the complexion, brown patches are visibly reduced and the skin is soft and soothed.
Aqua, Caprylic/capric triglyceride, Glycerin, Propanediol , Cetyl alcohol, Potassium cetyl phosphate, C12-15 alkyl benzoate, Octyldodecanol, Dimethicone, Caprylyl glycol, Palmitoyl hydrolyzed wheat protein, Carbomer, Glycolic acid, Sodium benzoate, Parfum, Caprylhydroxamic acid, Camelia sinensis extract , Limonene, Sodium hydroxide ,Tetrasodium edta, Dictyopteris membranacea extract, Linalool, Citral, Chrysanthellum indicum extract, Diacetyl boldine, Cinnamyl alcohol, Alpha-isomethyl ionone, Hydroxycitronellal.
Boldo tree: reduces melanogenesis, and the pigmentation of the epidermis. Lightening active ingredient evens the skin and brightens it.
Wheat protein amino acid: limits expression lines and offers a long-term redensifying effect to fill in deep wrinkles.
White tea leaf extract: erases skin blemishes. Reduces redness and tingling, and pigmentation marks linked to ageing.
Sea fern extract: reduces the size of brown patches and diminishes the skin pigmentation for a lightening effect
Glycolic acid, sugar cane extract: gently exfoliates
Chrysanthellum extract offers softening, anti-oxidant and anti-free radical properties. Prevents the appearance of wrinkles and lightens brown patches.
Apply Depigmentation Cream, anti-brown patches, morning and night locally on the patches on the face and body (hands, chest, forearms). Use as an 8- to 10-week programme. Avoid exposure to the sun or use a very high factor sun cream. Avoid contact with the eyes and mucous membranes. Do not use on children.
The pharmacist's recommendations
The dermatologist's word
To be effective, a depigmentation cream must be applied very regularly. Depigmentation treatment requires patience. The results obtained depend on the age and location of the patches (localised patches or over extended areas, new or long-standing) . Avoid exposure to the sun where possible, or use a very high factor sun cream. The sun is the main factor causing the appearance and worsening of the patches