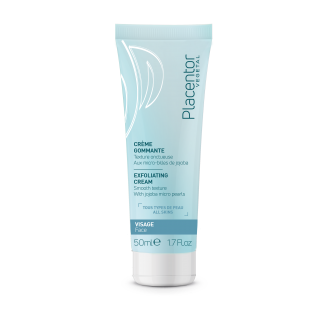 EXFOLIATING CREAM
Make-up removers/Cleansers
All skin types
Gentle Exfoliating Cream for the face and neck, eliminates dead cells and encourages cell renewal whilst respecting the skin's barrier.
TOLERANCE TESTED BY DERMATOLOGISTS
Capacity : 50ml
Exfoliating Cream leaves the skin cleansed and radiant.
The texture of the skin is refined.
The skin is soft and supple.
Aqua, Paraffin, Kaolin, Glyceryl stearate**, Stearic acid**, Hydrogenated jojoba oil**, Phenyl trimethicone, Glycerin**, Benzyl alcohol, Parfum, Sodium hydroxide , Dehydroacetic acid, Hexyl cinnamal, Benzyl salicylate
** Origine végétale
Micro-grains of Jojoba: gently eliminates impurities and dead cells by mechanical action
Kaolin / White clay: clenses by absorbing the impurities. Healing and antiseptic properties.
Apply a blob of Exfoliating Cream to the face. Massage in circular movements using the fingertips:
Oily/combination skin: apply to dry skin
Dry/sensitive skin: apply to moistened skin.
Avoid contact with eyes.
Rinse with water then apply Floral Toning Lotion. Use once or twice a week.
The pharmacist's recommendations
The dermatologist's word
Exfoliation is necessary for all types of skin, even dry, sensitive skin. This enhances the effectiveness of skin care. Mechanical exfoliation in the form of cream is preferable to avoid irritating and unbalancing the epidermis.