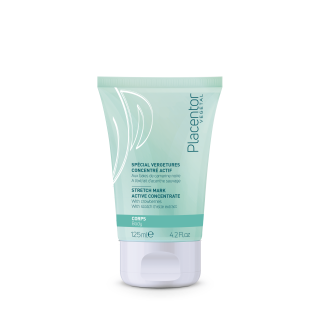 STRETCH MARKActive concentrate
Specific care
Areas subject to stretch marks: breasts, buttocks, abdomen and thighs
Stretch Mark Active Concentrate prevents and reduces the appearance of stretch marks and moisturises the skin. Thanks to its unique combination of plant-based active ingredients, this double-action care acts at the source of the stretch mark formation process and reduces the appearance of stretch marks (reduces the depth, width and colour of the marks).
Non-greasy texture, quickly absorbed.
TOLERANCE AND EFFECTIVENESS ASSESSED UNDER DERMATOLOGICAL CONTROL
Capacity : 125ml
After 56 days of application of Stretch Mark Active Concentrate: 
stretch marks are reduced: 77% (1)

                 

the skin is visibly firmer and more elastic: 100% (2)
significant increase in the level of moisturisation after 4 hours: 63% (3)
(1) Clinical scoring on 22 volunteers, 8 weeks
(2) Satisfaction test performed with 22 volunteers for 56 days
(3) Corneometry test
Aqua, Glycerin**, PEG-6 stearate, Caprylic/capric triglyceride**, PEG-32 stearate, Hydrogenated palm/palm kernel oil PEG-6 esters, Butylene glycol, Stearic acid**, Prunus armeniaca kernel oil**, Parfum, Empetrum nigrum fruit juice**, Benzyl alcohol, Alcohol, Hydrolyzed soy protein**, Calendula officinalis flower extract**, Sodium dehydroacetate, Carbomer, Citric acid, Fagus sylvatica bud extract**, Dehydroacetic acid, Sodium hydroxide , Lactic acid, Onopordum acanthium flower/leaf/stem extract**, Centella asiatica extract**, Cetyl hydroxyethylcellulose, Rutin**, Phenoxyethanol, Potassium sorbate, Dipotassium phosphate, Darutoside**, Benzoic acid, Palmitoyl oligopeptide, Palmitoyl tetrapeptide-7, Sorbic acid, Phaseolus lunatus seed extract**, Biotin
** Origine végétale
Crowberry (wild berry): acts at the source of the stretch mark formation process by strengthening the collagen and elastin fibres
Centella Asiatica and bio-peptides (matrikines): reduce the appearance of stretch marks (depth, width and colour)
Calendula: encourages healing and softens the skin
Plant placenta: improves the suppleness and firmness of the skin by stimulating the expression of collagen
Apply Stretch Mark Active Concentrate morning and night, massaging with circular movements over the areas subject to stretch marks: breasts, buttocks, abdomen and thighs.
Intensive treatment programme: apply twice a day for 2 to 3 months
Prevention: apply once a day throughout the year
The pharmacist's recommendations
The dermatologist's word
Stretch marks are caused by the collagen and elastin fibres constituting the skin's supporting structure breaking. Stretch marks are generally associated with adolescence, weight gain or pregnancy. To prevent their appearance, use specific anti-stretch mark products which will reinforce the solidity of the collagen and elastin fibres and improve the skin's resistance to stretching.