RADIANCE EYE BALM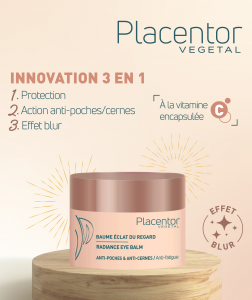 – Anti-puffiness/anti-dark circle, protection, blur effect
This complete treatment protects the fragile eye contour area, moisturises and visibly reduces the signs of fatigue.
1/ PROTECTION: during the day, Pollustop® protects the skin from external aggressions and provides an "invisible breathing" shield against pollution. At night, it restructures its protective barrier.
2/ BLUR EFFECT: its powdery texture instantly smoothes skin texture and blurs imperfections around the eyes: fine lines, puffiness, dark circles.
3/ ANTI-DARK CIRCLE/ANTI-PUFFINESS: encapsulated vitamin C combined with a complex of caffeine and red seaweed reduce the colour of dark circles and decrease the volume of bags. Cucumber cryoextract and cornflower water soothe and refresh the eyes.
Enriched with high-tech active ingredients…
Encapsulated Vitamin C: reduces the appearance of wrinkles and dark circles by acting at the heart of the cell to rejuvenate the skin. The eyes are illuminated, rejuvenated and fresh.
Pollustop®: forms a protective film around the eye area to protect it from pollution.
Caffeine: thanks to its action on microcirculation, it awakens and energizes the eye contour area.
… And in numerous natural active ingredients to give the Radiance Eye Balm a complete action:
Seaweed extract (1) promotes drainage and reduces puffiness.
Cornflower water (1) and cucumber cryoextract soothe and refresh the eyes.
Yeast extract (2) brightens the eye contour area and reduces the brown colour of dark circles.
Liquorice extract reduces the production of melanin which causes the colour of dark circles.
(1) Origin France (2) Grown in France
CLINICALLY PROVEN EFFECTIVENESS
From the 1st application:
Protects the skin and limits the adhesion of pollution: 99% of fine particles eliminated (1)
A powdery texture for an instant skin-perfecting effect: 86% (2)
Smoothes skin texture: 91% (2)
Day after day: the eye contour is more uniform and radiant: 95% (2), dark circles and puffiness are reduced: 86% (2)
(1) Instrumental measurement on 11 volunteers who applied the balm: removal of carbon microparticles after rinsing.
(2) Satisfaction test on 22 volunteers after 28 days of twice-daily use.